Motorcycle Tours Australia on a Harley-Davidson or BMW Motorbike
Discover the fascinating continent Down Under! The great Australian motorcycle tour "Best Of" Australia presents the regions in the south-east of the fifth continent between Melbourne and Sydney during 18 days, including the seventh state of Australia, the island of Tasmania in the south of the continent. You can also choose between our 12 day Down Under motorcycle tour on the continent, in case you have less time to travel.
All motorcycle tours in Australia start in Melbourne. Before the motorbike tour begins, plan on arriving a few days earlier in Australia to recover from the long journey and for discovering Melbourne, which is one of the oldest cities in Australia.
A visit to the Great Ocean Road, one of the most scenic roads in the world is the first big highlight on your road trip and a 'must' for every rider who comes to Australia. The ocean created unique rock formations such as the Twelve Apostles, surrounded by a picturesque landscape. Depending on the season and weather you can even go whale watching from the mainland. Another highlight in the region of Melbourne is the old gold mining town of Sovereign Hill in Ballarat, where you can experience how the first settlers searched for gold.
A favorite stopover on the way from Melbourne to Sydney is Canberra, the Australian capital. Canberra is precisely halfway, because the Australians couldn't agree on which of the two cities should become the capital. So they decided to build a new one in the middle.
The largest and most beautiful city of Australia is Sydney and you will get to know it in detail. Explore this city, visit the famous opera at the harbour or spend a relaxing day at the beautiful Bondi Beach, before you get back on your Harley and head along the coast back to Melbourne.
With the ferry you will cross over to Tasmania, where you will ride through magnificent national parks and pursue many sports activities, for example the air walk in the Tahune forest. Port Arthur, the former prison camp, is a reminder of Australia's inglorious beginnings as a prison colony of the British Empire.
* HARLEY-DAVIDSON, HARLEY, H-D, HD, HARLEY-DAVIDSON AUTHORIZED TOURS and the Bar & Shield logo are among the registered trademarks of H-D U.S.A., LLC.
We now invite you to choose from the following Harley and BMW tours we have put together for You: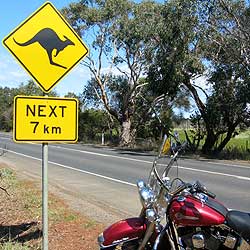 Best Of
Our great "Best Of" tour is the perfect choice for a motorcycle tour in Australia, especially when you want to see as much as possible of this fascinating continent. Your tour begins in the south Australian city of Melbourne...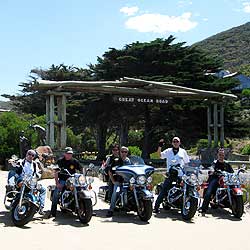 Down Under
This 12 day "Down Under" motorcycle road trip through Australia will take you through the states of Victoria and New South Wales. You will get to know the vibrant cities Melbourne and Sydney and discover...